The Russian remains of Sinai crash victims are flown home
Comments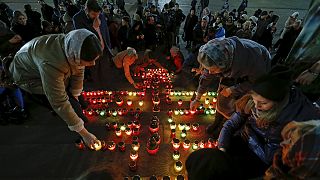 The first of the 224 victims from the Sinai plane crash have been flown home to St Petersburg. The remains of around 144 passengers are said to have been repatriated. Not all of them have as yet been identified.
So far the Egyptian authorities have recovered 187 bodies from the crash site and its environs.
It was on Saturday that the aircraft came down shortly after leaving the Egyptian resort of Sharm el-Sheikh. Most of those on board were Russian.
Until the cause of the disaster is known most airlines are re-routing flights to avoid the Sinai peninsular where militant groups are active. The Head of Russia's Aviation Agency, Alexander Neradko has said the plane must have broken up in mid-air
"The site of the crash occupies a very large area – more than 20 square kilometres. Generally the zone where the fragments of plane are scattered has a shape of a stretched ellipse about eight kilometres long and about 4 kilometres wide. All the signs show that the plane broke up in the air at a great altitude."
Sunday was officially declared a day of mourning and hundreds held a vigil in Palace Square in central St Petersburg.
Speculation is growing over what caused Russia's worst air disaster
ranging from an ISIL attack although experts don't believe the militants have the capability to down an aircraft, to a catastrophic systems failure. Any answers will have to wait until the plane's two flight recorders have finished being analysed.