Russia mourns the victims of Sinai plane crash
Comments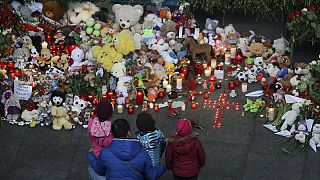 Russia is observing a day of mourning for the victims of Saturday's plane crash in which 224 people died.
Pulkovo Airport in St Petersburg, the destination of the doomed flight, has become a focal point for flowers, soft toys and reflection.

The growing mound of flowers at St. Petersburg's Pulkovo airport via @odynsashan - pic.twitter.com/nxL9lPg2uM

— Howard Amos (@howardamos) November 1, 2015
For some the emotion was almost too much:
"Its a nightmare for the whole country, everybody is involved. I was my duty to come here. My feelings are beginning to overwhelm me," said one man who had paid his respects.
Over half of those that perished in Egypt came from St Petersburg, Russia's second city.
In honour of those that died a memorial service went ahead at the city's impressive Kazan Cathedral where the names of the victims were read out.

A priest in St Petersburg's Kazan cathedral reads out the names of those killed in #Egypt plane crash. #Russiapic.twitter.com/qo6QtXYMC9

— Emma Wells (@Emmawells1) November 1, 2015
Service in Kazan Cathedral, St Petersburg. Day of mourning declared across #Russia today for plane crash victims. pic.twitter.com/uM0mm54pjp

— Emma Wells (@Emmawells1) November 1, 2015
State flags flew at half- mast and TV stations changed their schedules.