Japan-South Korea to step-up efforts to resolve "comfort women" dispute
Comments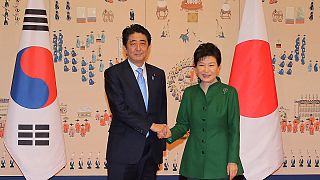 South Korea and Japan will seek to move past the bitter wartime dispute over "comfort women" as soon as possible.
The term refers to the mainly Korean women were forced into prostitution in Japanese military brothels during the Second World War.
The Asian nations announced the decision in Seoul, as they wrapped up their first formal bilateral talks since their current leaders came to power.
"Regarding the issue of 'comfort women', I believe we should not leave behind difficulties for future generations as we try to build a future-oriented cooperative relationship," said Japanese Prime Minister, Shinzo Abe.
Relations between the two nations have been fraught with animosity over Japan's 1910-1945 colonisation of its neighbouring country
Prior to the talks, South Korean President Park Guen-hye was quoted as saying resolving the issue of "comfort women" was integral to building better ties between the countries.
Seoul maintains that Tokyo has repeatedly neglected to apologise for its wartime actions.
Talks between the two nations and China took place until three and a half years ago, but ground to a halt as relations worsened.
Beijing entered into trilateral talks with Seoul and Tokyo on Sunday (November 1), after which the three announced trade and security ties had been "completely restored".