Azerbaijan's ruling party wins election - opposition holds boycott
Comments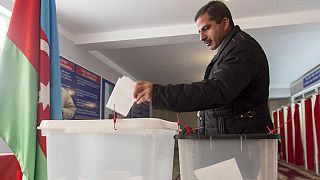 Loyalists to Azerbaijan's President IIham Aliyev have swept the board in parliamentary elections which the main opposition parties had boycotted.
Candidates from the ruling New Azerbaijan party won at least 70 of the 125 seat single chamber parliament. The rest went to small parties loyal to the government.
The opposition accused the government of jailing its opponents.
Sunday's victory further cements Aliyev's grip on the mainly Muslim country of about 9 million people.
Rights groups have accused the government of curbing freedoms and silencing dissent, while the opposition has complained of harassment, a lack of access to broadcasting, and draconian restrictions on campaigning.
The Azeri authorities convicted or imprisoned at least 35 journalists and rights and political activists in 2014 according to "Human Rights Watch".