Russian plane crashes in Egypt's Sinai Peninsula with no survivors
Comments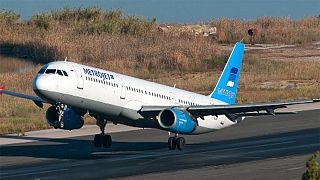 A Russian passenger plane has crashed in Egypt's Sinai Peninsula.
The Kogalymavia Airbus A-321 was travelling from the Red Sea resort of Sharm el-Sheikh to St Petersburg.
#UPDATE | Egyptian rescue team locates crashed Russian plane, 45 ambulances at crash site https://t.co/IJ0rj4IEclpic.twitter.com/ifpkJ5vUiZ

— Times of India (@timesofindia) October 31, 2015
There were 217 passengers and seven crew on board the flight.
Egyptian authorities have announced there are no survivors.
The Russian aviation authority said that the aircraft failed to make scheduled contact with Cyprus air traffic control 23 minutes after take-off and disappeared from the radar.

UPDATE: Ambulances have arrived to the crash site of Metrojet Flight #7K9268 in Egypt https://t.co/mYDEHEftpD#9Newspic.twitter.com/rckpgesjRf

— Nine News Australia (@9NewsAUS) October 31, 2015
Most of the all the 63 men, 138 women and 17 children are said to be Russian nationals, but three Ukrainians were on board.
The aircraft was discovered in the Hassana area south of Arish in the Sinai.
Local Jihadis, affiliated to ISIL, are active in the area.
Egyptian security sources said there was no indication that the Airbus jet had been shot down or blown up.
Russian state media reports that the crew had complained of engine problems.
Egyptian authorities have ordered an investigation.
The plane crashed in a mountainous area.