Sweden to hide refugee centres after several attacks
Comments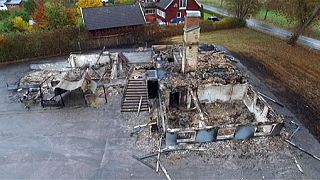 Sweden's migration authorities have decided to hide the locations of buildings earmarked for housing refugees after attackers have set on fire more than a dozen prospective centres in five months.
Most of the buildings had yet to house anyone so no one has been injured.
Willis Aberg of the Migration Agency said: "Evacuation plans will be reconsidered and residents will be informed as to what to do and in some cases additional security will be set up. There are many elements needed so that the refugees can feel secure, which is what we want in the end".
Awful that centres earmarked to house refugees in #Sweden have been attacked & set on fire https://t.co/fyixEBwDZ7pic.twitter.com/VI30BZ1BRY

— Joseph Willits (@josephwillits) October 28, 2015
Anti-immigration sentiment has been growing in the country after it was announced that Sweden could expect 190,000 asylum seekers to arrive in 2015, which is more than double the prediction at the start of the year.
The populist Sweden Democrat Party which has seen a rise in its support was criticised last week for publishing a map listing the addresses of asylum centres.
Sweden to hide up to half a million Muslim refugees from its citizens. Amazing political leadership. #edl#pegidahttps://t.co/E5HgnhB2I4

— Death or Glory (@EnglishMaker) October 28, 2015