Republicans attack each other in bad tempered third presidential debate
Comments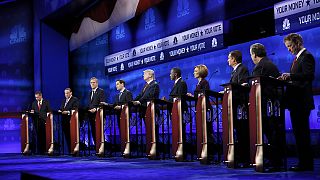 Ten US Republicans have held an often heated third presidential debate in Colorado with both front runners, Ben Carson who has moved into the lead and Donald Trump, coming under attack.
The economy and tax policy were the main subjects but opinions were peppered with personal remarks.
Ohio Governor John Kasich slammed billionaire Trump, calling his tax plan "a fantasy".
" We are on the verge of picking, perhaps, someone who cannot do this job," Kasich said. " You gotta pick somebody who has experience."
ALLOUTWARAGAINSTCNBC… https://t.co/Fe9BOfjToG

—

DRUDGE

REPORT

(@DRUDGE_REPORT) October 29, 2015
Analysts observered two contests going on – one to establish who should lead the party into the fight for the 2016 presidential election and one to declare what the party stands for. The Republicans appeared completely at odds over whether to do away with Obamacare (the Affordable Care Act) or just reform it. They were even divided over whether its a good idea to compromise a little with the Democrats to ease the voting gridlock on Capital Hill or to stick to their position and get nothing done.
While the debate was going on outside the venue about 200 demonstrators gathered to encourage the candidates inside to discuss issues including racism, and gun control. They held placards calling for not one more child to be shot dead in a school gun massacre.
There are another nine debates to be held and three months to go before the first nominating contest in Iowa, but although time is running out its it remains clear the Republicans are determined not to allow a Democrat back into the White House.