Plane catches fire during takeoff at Florida airport
Comments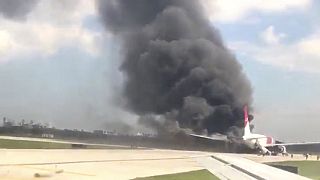 An engine on a passenger jet bound for Caracas, Venezuela, burst into flames while taxiing for takeoff at a Florida airport on Thursday, officials said, and several people were injured as they exited the plane using emergency slides.
Television images showed the Dynamic International Airways' Boeing 767-200ER surrounded by white foam and firefighters' trucks in Fort Lauderdale, its inflatable evacuation chutes deployed. The aircraft was leaking fuel before departure, the Federal Aviation Administration said.
In video shot by a passenger on another plane, thick gray smoke could be seen pouring from the flight before the blaze was extinguished.
Plane caught on fire at #FLL! pic.twitter.com/61o6jvrEAY

— Mike Dupuy (@mikejdupuy) Οκτώβριος 29, 2015
Fifteen people were taken to the hospital, one with serious burn wounds and two with less serious injuries, Michael Jachles, a spokesman for Broward Sheriff's Office, told reporters.
The other injuries appeared to be bumps and bruises, he said, adding that 101 people, including crew, had been on board.
One child was among those being treated at Broward Health Medical Center, a hospital spokeswoman said.
Luis Campana, a 71-year-old rancher, was traveling to Venezuela's Guarico state with his wife and sister from Fort Lauderdale-Hollywood International Airport.
"It was a real scare," Campana told Reuters, adding that he had been sitting near the front of the plane as the pilot put the thrust on to taxi up the runway.
"The engine exploded. As we were getting out of the plane down the chute, the smoke was beginning to enter and the engine was in flames," he said.
Campana said he did not see any injured people.
Officials got a call at 12:34 p.m. EDT (1634 GMT) that Dynamic Airways flight 405 experienced a left engine fire while taxiing on one of the airport's two runways.
Passengers had been completely evacuated by 12:37 p.m., Jachles told a news conference.
The airport reopened about three hours later.
Natalia Vargas, 50, said her 75-year-old mother phoned her from the plane and said there had been two strong explosions.
"There was a lot of smoke," said Vargas, who lives in Miami and is originally from Venezuela. "Everyone was very nervous, but everyone was off the plane quickly," she said.
The National Transportation Safety Board is sending four people to Fort Lauderdale to investigate the fire, the agency said on Twitter.
Greensboro, North Carolina-based Dynamic said in a statement that the crew became aware of an engine problem while taxiing for departure.
The carrier said on its website that it has operated wide-body aircraft since 2009 and would investigate the fire.
The plane was powered by Pratt & Whitney JT9D engines, said Sara Banda, a spokeswoman from Pratt & Whitney, a unit of United Technologies Corp.
Boeing Co said in a statement it is providing technical assistance to the NTSB investigation.
Dynamic's 767-200ER was built in 1986, and only seven such planes of that age or older remain in service out of 65 built, according to Collateral Verifications, an aircraft appraisal firm.
Reuters