Doing the Timewarp again: Rocky Horror film celebrates 40 years
Comments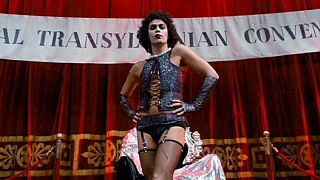 From royalty to the Rocky Horror Picture Show, London's Royal Albert Hall has had a diverse week so far.
Tuesday night (October 27) saw all manner of characters sashay down the red carpet to celebrate forty years since the Rocky Horror film was released.
The plot follows engaged couple Brad and Janet who find themselves in a castle run by a transvestite.
Decades later, fans still dress in drag when they watch the musical.
"I would say I am a fan of 'The Rocky Horror Show'," said one fan. "Mainly because it just gives me the chance to get away from the straight-laced running a warehouse and do something slightly outrageous."
Based on Richard O'Brien's cult West End play, the film starred the likes of Susan Sarandon, Tim Curry, Patricia Quinn and Nell Campbell.
The theatre show has been performed in more than 30 countries worldwide and is still popular today.
"I think it gets better with each year, it just gets better, more people discover it for the first time and things like that, it just keeps getting better, you can't not love it, the songs, everything," said another fan.
A modern-day remake is set to air on television in late 2016.