Czech Republic: far-right demonstrations attract thousands
Comments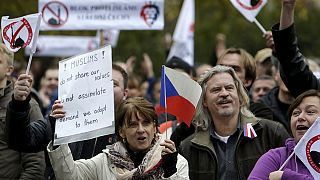 Anti-migrant and anti-Islam demonstrations across the Czech Republic have attracted up to 5,000 people.
Organised to coincide with the Czech national day, the protests came a week after the United Nations labelled the country's treatment of migrants "degrading."
UN rights chief calls Czech treatment of migrants "reprehensible" and "degrading." https://t.co/h3lvaMTt37pic.twitter.com/kdqgH0DBiB

— Russell Goldman (@GoldmanRussell) October 22, 2015
The rallies, which took place in at least four cities, were organised by Dawn, a right-wing, eurosceptic party.
Among the crowds in Prague was Lutz Bachmann, the leader of German far-right group PEGIDA. He called for all like-minded parties to work together.
"It is more important than anything else that the patriots in Europe connect and cooperate to fight this menace," he told attendees in the capital.
More than 700,000 migrants have flocked to Europe between January and the end of October, 2015.
Tensions are running high between some European Union members as a result of the influx of people arriving in the continent.
The swell in numbers has seen support for far-right anti-immigration groups swell Europe-wide.