Profile: Alassane Ouattara, Ivory Coast President
Comments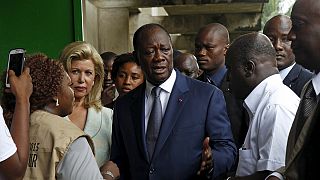 Alassane Ouattara has an economic rather than a political background.
He is a former senior official at the International Monetary Fund (IMF). He has led Ivory Coast, the world's largest cocoa producing country to a revival after a 2011 civil war. That has made the country a magnet for investment as weaker African economies crumbled amid a global commodities crash.
According to the IMF, Ivory Coast is scheduled to expand as much as nine percent this year because of the country's investment boom.
Laurent Gbagbo
Ouattara came to power after taking on President Laurent Gbagbo in a November 2010 election.
Gbagbo refused to recognise Ouattara's victory, sparking a civil war in which 3,000 people were killed.
Now Gbagbo is awaiting a trial before the International Criminal Court in The Hague charged with crimes against humanity.
His supporters called for a boycott of this month's (October)election. Polling stations in the former president's home region were devoid of voters.
Ouattara's second term is seen as important to turning the page on a decade-long political crisis that ended with the country's 2011 civil war.