Hollande vows to find 'truth' about French pensioner bus crash
Comments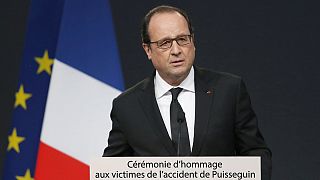 French President Francois Hollande has promised to find "the truth" about a major bus crash last week in southwestern France.
Hollande met the families of 43 people killed in the collision and vowed to undercover the truth to avoid "rumours" and "bitterness."
Hollande was speaking on Tuesday (October 27) at a memorial ceremony for the victims. He was joined by prime minister Manual Valls and five government ministers.
He expressed solidarity, recollection and remembrance for those who lost their lives.
"No one is prepared for such a test," Hollande said. "That is why we must give you all of our solidarity. And the whole country, France, which I represent today, is absolutely shocked and overwhelmed by this disaster that could have affected any one of us."
It was the country's deadliest accident in 33 years.
The bus carrying senior citizens on a hiking trip collided with a truck, igniting an inferno that killed 43 and badly injured four others.
An investigation is underway into the cause of the accident.