Beckenbauer admits controversial FIFA payment was a 'mistake'
Comments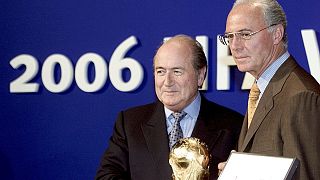 Franz Beckenbauer has admitted he and the German Football Association made a 'mistake' in paying FIFA €6.7m but strongly denied the money was used to buy votes to secure the 2006 World Cup.
According to a Der Spiegel magazine report a slush fund was set up and used to bribe FIFA voting members back in 2000 to award the tournament to Germany.
Beckenbauer, a world cup winning captain and coach, was head of the bid committee, and later the tournament's organisation committee.
Refering to the payment to football's world governing body the 70-year-old said that as President of the organising committee at the time he carries the responsibility for this mistake.
The German FA says the money was demanded by FIFA's finance committee to help contribute to the tournament budget but has launched an internal investigation into the payment.