BA passenger plane crash lands in Joburg - no injuries reported
Comments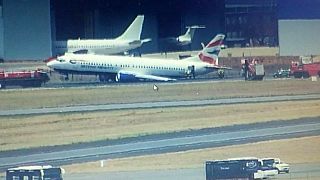 A British Airways plane has been forced to make a crash landing at Johannesburg's International airport.
Flight BA623 was scheduled to fly from Port Elizabeth in Cape Town to Johannesburg but had trouble landing due to faulty gear on the plane.
According to the Aviation Safety blog, the left-hand main landing gear collapsed as the plane landed. "The aircraft skidded on the left engine nacelle and wingtip before coming to rest on the runway."
All 94 passengers and six crew were safely evacuated with non injuries reported.