Schiavone crowned European Footgolf champion
Comments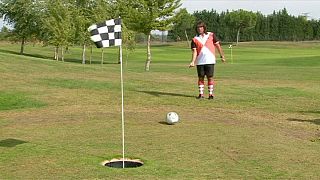 Footgolf is a sport that is growing in popularity every year, notably in Spain where this year's European Footgolf Championships took place.
Palomarejos Golf Club on the outside of Madrid played host to the event that showcased the continents finest players of this sporting cross breed.
Just like in normal golf the player who goes round the 18 holes with the fewest shots wins.
well A playoff was needed to decide the winner of this year's event as both Marco Schiavone of Italy and former professional Dutch footballer Marcel Peeper posted 15 under pars for 129 points.
Schiavone eventually emerged victorious from the sudden death battle to be crowned European Champion.