EU stiffens border controls but human bottlenecks shiver in the cold and rain
Comments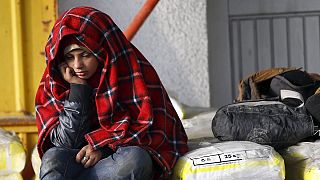 Twenty-four hours after the EU's special central and eastern European member states' summit on the refugee crisis and there are already signs that the steps taken may well exacerbate problems for the crowds of migrants huddled on various borders.
The summit may have made progress on controlling the flow of people at the borders, but the result is likely to further slow people's progress in actually getting where they want to go.
"We agreed that Frontex border guards should arrive on Croatia and Serbia's frontiers, the European outer border guards, so to speak. This should, in theory, slow down the flow of people because it would entail a more rigorous entry procedure. Of course, that's assuming that the system works all the way from Greece through Macedonia and Serbia" said Croatia's Prime Minister Zoran Milanovic.
Some control is needed to stop the chaos of recent weeks and buy time for countries to prepare for the influx. But in the meantime families are trapped in squalid unhealthy conditions. Some report footrot after resorting to plastic bags to keep out the rain and mud.
"We support a proper registration process but of course it slows everything down. It's an issue as the winter is coming and the shelter facilities are not available," said the UNHCR Senior Co-ordinator Francesca Bonelli.
Singing in the tented villages springing up may warm the heart but soon these people are going to need a lot more than that, or Europe may have a humanitarian, not a refugee crisis on its hands.