EU agrees on thousands of extra refugee places on Balkan migration route
Comments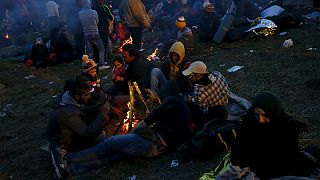 European Union leaders have agreed to provide another 100,000 spaces in refugee welcome centres along the route from Greece towards Germany.
It's part of a 17 point plan to cooperate on managing the flow of migrants through the Balkan peninsula.
The heads of 11 EU states and three non-EU countries endorsed the measures at an emergency summit in Brussels
The UN's refugee body, the UNHCR, will provide another 20,000 spaces.
Commission President Jean-Claude Juncker stressed the unilateral moving of migrants from one border to another must cease.
"We have made very clear that the policy of simply waving people through must be stopped. And that will be the case."
However Slovenia which is one of several countries struggling to cope with the influx of thousands of migrants remains unconvinced that everyone is thinking the same way.
"There is some fear in the air that Germany, and consequently Austria as well, could close their borders, which would lead to a domino effect, which would be quite a disaster, if I may say so, for the European Union.," said Slovenian Premier Miro Cerar,
Afterwards German Chancellor Angela Merkel said meeting had been the first of many steps…
Our reporter in Brussels Efi Koutsokosta summed up the summit:
"Despite the fact that there is still cautiousness, at this summit, leaders from central and southeastern Europe sat on the same table and committed themselves to stop taking unilateral actions and instead will cooperate in the management of the migration flows with the support by the EU and the relevant authorities: They also decided to increase reception capacity as despite the worsening weather conditions the flow of migrants hasn't decreased. Greece has seen a record 48,000 people land on its shores over the last five days."
For full details of the agreement: http://europa.eu/rapid/press-release_IP-15-5904_en.htm