Serbia and Croatia agree deal to transport migrants to 'end torture'
Comments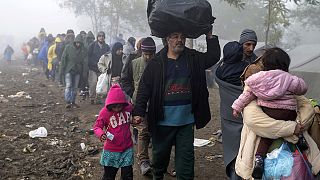 Thousands of migrants have arrived at the border between Serbia and Croatia.
The flood of people shows no sign of slowing.
The migrant crisis has centered on Serbia and Croatia in recent days.

Dramatic thermal images of #refugees and #migrants crossing #Croatia-#Slovenia border https://t.co/QJukTfsFIPpic.twitter.com/gUbzjmS1sF

— Lotte Leicht (@LotteLeicht1) October 24, 2015
The interior ministers of both countries have vowed to ferry the people between the two countries.
Croatia's Ranko Ostojic after meeting his Serbian counterpart said "we have agreed to stop this torture."
Niklas Stoerup from the UNHCR describes the situation on the ground: "There hasn't been a lot of tension overnight, of course its been cold again, like the previous days. A lot of families, this is something new, we are seeing many small kids and many people with disabilities."

1400 migrants & refugees from Mali, Afghanistan, Syria & others arrive on Croatia-Slovenia border pic.twitter.com/IX0rm0batN

— Lauren Frayer (@lfrayer) October 20, 2015
The migrant route has changed radically since Hungary erected barriers across its borders with Croatia and Serbia.
Hungary's Latest Barrier Against Migrants http://t.co/77gTz5jwra#newsdict#news#bloc#borderpic.twitter.com/mRu2Z0dDVq

— japan - newsdict (@japan_newsdict) September 23, 2015
The new bilateral agreement will see trains taking migrants four times a day from Šid in Serbia straight to the Croatian town of Slavonski Brod, where a new camp will be open within days.
In another development the governments of Bulgaria, Serbia and Romania have threatened to close their borders if Germany and Austria block entry to migrants.