Argentine presidential forced to a surprise second round run-off
Comments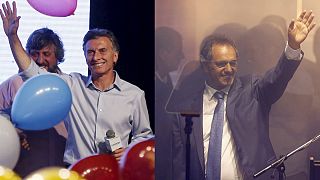 The pro-business opposition candidate Mauricio Macri has caused a major upset by forcing Argentina's presidential election into a second round run-off
It had been thought the anointed favorite of outgoing President Cristina Fernandez de Kirchner would easily win in the first round but he is not now expected poll the 45% necessary to avoid a run off.
Macri has mounted a strong challenge from his base as the mayor of Buenos Aires.
Ruling party favourite, centre-left candidate Daniel Scioli was handpicked by two-term leader Cristina Fernandez de Kirchner, who is constitutionally barred from seeking a third term.
Scioli who is the governor of Buenos Aires province, is a former world powerboating champion who lost his right arm in a race in 1989.
He's has vowed to bring down Argentina's inflation to single digits in less than four years and to invigorate the economy.
The second round will take place on November 22.
Social media was alive with the "election shock" :
Huge upset in Argentine elections. Opposition's Macri leads with 36% vs 34% for ruling party's Scioli. Polls had Scioli 39% vs 28% #RunOff

— Daniel Cancel (@DanCancel) October 26, 2015
Argentine political analysts, after tonight's elections, will be looking for work reporting the weather. Just as accurate.

— Juan Arango (@JuanG_Arango) October 26, 2015