A former comedian is elected president in Guatemala
Comments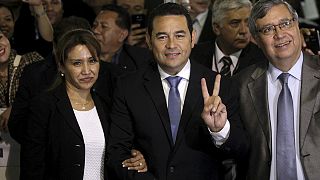 A former TV comedian with no previous government experience has won Guatemala's presidential election.
Jimmy Morales cruised to victory winning over 72% of the vote promising clean government after a corruption scandal toppled the last leader.
He has given few indications as to how he might run the country – but he is known to favour low taxes and limited government.
Voters rejected his rival former first lady Sandra Torres who is seen by many as part of the country's unpopular political elite. She quickly conceded defeated winning only 27 % .
Many voters see the comedian as a fresh start following nationwide protests that ousted President Otto Perez Molina . He's been accused of leading a corrupt network of politicians and customs officials. He denies any wrong doing.
No joke: comedian elected President of Guatemala in a landslide https://t.co/lRCbUBy6Bv#TheProjectTV

— #TheProjectTV (@theprojecttv) October 26, 2015
.