Ukraine postpones local elections in two key areas for Kyiv
Comments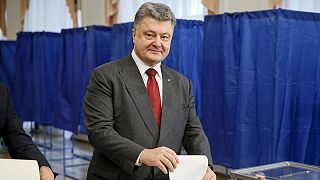 Local elections in two areas in the disputed Donetsk region of Ukraine have been cancelled.
Polls failed to open in the Kyiv controlled constituencies of Mariupol and Krasnoarmiysk.
Looks like election in #Mariupol is over as it's impossible to use ballots. pic.twitter.com/YrdrNy8UN6

— News of Donbas (@novostidnua_en) October 24, 2015
In Mariupol the ballots were not ready in the polling station in time and officials in Krasnoarmiysk claimed an electoral violation had scuppered plans.

Sunday local elections in Mariupol under threat as voting cards not yet printed - Central election commission pic.twitter.com/TZctWNVfqw

— Hromadske Int. (@Hromadske) October 23, 2015
Elsewhere Ukrainians turned out to vote: "Poroshenko promised a wider power and rights for local authorities. Maybe it will be true. I've lived a long life and have voted many times, but now I have an impression that nothing depends on people. Unfortunately money is the only thing that decides everything in this country," said one disillusioned voter.
Good morning from Kiev. Election Day in #Ukraine - hope for fair & democratic elections. pic.twitter.com/FF6tJXuO9c

— Stefan Haböck (@StefanHaboeck) October 25, 2015
The Solidarity party of president Petro Poroshenko said mayoral and regional elections will be held in both areas in mid-November.
Mariupol is a key transport hub and outlet for the east's industrial output and the site of repeated pro-Russian rebel attacks.

Reports of constant barrage of mortar explosions near #Mariupol by @BBC: http://t.co/vFdxdfSgjepic.twitter.com/TpwQsA5hII

— Euromaidan Press (@EuromaidanPress) April 23, 2015
In January a mortar assault killed 31 and injured 100.
The vote goes ahead during a lull in the fighting and as Ukraine is announced a Europe's second poorest country.

#UNDP experts help #Ukarine draft #poverty reduction strategy http://t.co/KRUPFGD36Qpic.twitter.com/OY0v7iBERi

— UNDPUkraine (@UNDPUkraine) September 24, 2015