Dramatic pictures released of US-Kurdish prisoner rescue in Iraq
Comments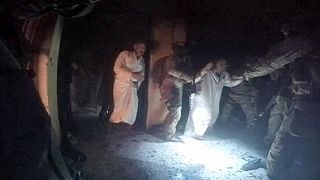 The first pictures have been released of the daring Kurdish Peshmerga-US marines joint operation in Iraq last week that saved the lives of dozens of prisoners ISIL was about to execute.
The night raid on Huwija came just hours before intelligence suggested the 69 Peshmerga and Iraqi soldiers were to be murdered and buried in four mass graves.
The raid resulted in the death of Master Sergeant Joshua Wheeler, the first American death fighting ISIL. His body was returned to his family on Saturday in Dover, Delaware.
This sort of operation has been extremely rare ever since the vast majority of US forces left Iraq. Only a small number of trainers and special forces remain, to be deployed at the request of the Iraqi government.
America is supporting the Kurds with both equipment and training as the Peshmerga have proven to be the most effective fighting force against ISIL in Iraq.