Congo votes in controversial referendum to allow president to stand again
Comments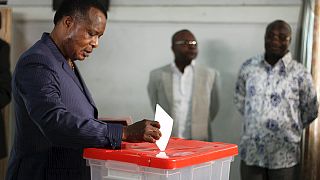 Congo's long-serving president is waiting to see if he has won a controversial referendum after the country voted on Sunday.
The vote is to ditch age and term limits for the presidency that would allow Denis Sassou Nguesso, 71, to stand again after being in power nearly continuously since 1979.
The opposition has called on voters to boycott the poll, and witnesses report only a trickle of people at polling stations, with some claiming only members of the security forces were taking part.
"Things have been going well. But now if people don't want to vote, and like we said if they don't want to come…those who want to come will come," said one man.
"Voting is a civic duty but what's happening here, even if you paid people millions, they would not touch those ballot papers," said another.
At least four people died in riots last week as the referendum approached, but the president got support from French President Francois Hollande after the unrest, who said he had the right to consult his people.