Argentina votes with economy in chaos
Comments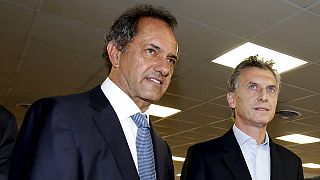 Argentina is voting for a new president with Buenos Aires state governor Daniel Scioli well ahead in the opinion polls.

Argentina election: Is Cristina Kirchner's heir ready for the throne? https://t.co/c85iFfnMP2pic.twitter.com/UITNv0uJZQ

— Telegraph News (@TelegraphNews) October 25, 2015
He is the favoured candidate of outgoing president Cristina Fernandez, the most popular politician in the country.

Cristina Kirchner; end of an era in Argentina, as country elects successor #economyhttps://t.co/Pahl8rA1BHpic.twitter.com/dpg3zfIIl3

— World Economic News (@WordLinkECON) October 22, 2015
This is an unusual election as the ruling party has overseen a economy where inflation is soaring, state control is in place,its international bonds are in default and the country is locked out of the lending markets.
A potential recipe for disaster, but not in Argentina.
Generous welfare reforms have kept the government popular.
Scioli has more orthodox ideas on the economy than Cristina Fernandez, but has kept his platform deliberately vague during the campaign.
The main threat to Scioli comes from the mayor of Buenos Aires, Mauricio Macri.
Choose Macri-economics: why Mauricio Macri is the best choice for Argentina's next president https://t.co/8K0VQ23AIXpic.twitter.com/iLiGhzKvG0

— The Economist (@EconAmericas) October 24, 2015
Macri, though popular in the capital, he has failed to make an impact in the wider country.
He is running at 20 to 25 percent, far short of the 40 percent needed for overall victory.