Relief in Mexico as Hurricane Patricia weakens
Comments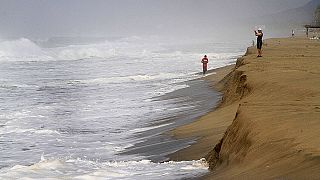 Hurricane Patricia has made landfall in western Mexico bringing with it the threat of floods and mudslides.

Hurricane Patricia batters Mexico as one of strongest storms ever https://t.co/0Tzc1jR6xTpic.twitter.com/N5ePpuPS7q

— Reuters Top News (@Reuters) October 24, 2015
The strongest recorded storm in the Americas hit land as a Category 5 hurricane and as it moved into the interior lost strength and looks set to be reclassified as a tropical storm in the coming hours.
Most dangerous storm in history menaces Mexico. #local10https://t.co/VyvtLcOoklpic.twitter.com/zJbd03nYFO

— WPLG Local 10 News (@WPLGLocal10) October 24, 2015
According to Mexico's National Disaster Fund some 400,000 people are vulnerable to the extreme weather.
The country's president, Enrique Peña Nieto urged vigilance:"We can't yet lower our guard. I insist: the most dangerous part of the hurricane has yet to enter the national territory. I ask the Mexican people to be watchful over the coming hours and listen for information from government officials over Hurricane Patricia."

#HurricanePatricia causes less damage than feared so far: #Mexico leader https://t.co/ieG2TAwSYhpic.twitter.com/LSufEfVexU

— ST Foreign Desk (@STForeignDesk) October 24, 2015
At its height Patricia generated winds of 265km/h.
Some in Mexico find themselves stranded in Hurricane's path https://t.co/Uq8gQNfA03pic.twitter.com/fiThXWMsYR

— New York Times World (@nytimesworld) October 24, 2015
In coastal areas people hunkered down after stocking up on food and other staples as businesses closed while the hurricane swept ashore.