Patricia downgraded to tropical storm but flooding extends north to Texas
Comments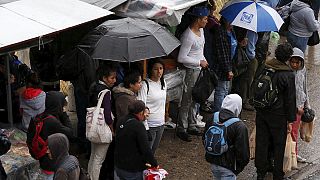 Now just a tropical storm, Patricia has nonetheless caused chaos in Mexico following its landfall. Although it was feared it would be the strongest-ever hurricane to smash into dry land when it was a category five monster out at sea, after hitting the Mexican coast it was almost immediately downgraded, and has now all but blown itself out.
Maximum wind speeds are now down to 80 kph, as even mighty Patricia could not overcome Mexico's coastal mountain chain. But that is of little comfort to the refugees huddling in reception centres who have lost everything.
Further north in Texas Patricia has met a storm front coming from the west. The two combined have dumped torrential rain that has flooded parts of Dallas and almost all of the state's 27 million people have been put on flood alert.
Hundreds of flights have been cancelled at Dallas-Fort Worth international, one of America's busiest airports, and the rain is expected to continue throughout the weekend.