Hollywood legend Maureen O'Hara dies at 95
Comments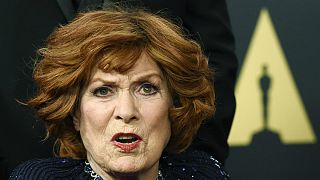 Irish-American actress Maureen O'Hara, one of Hollywood's most celebrated leading ladies of the 1940s and 1950s, has died at the age of 95.
O'Hara passed away peacefully at her home in Boise, Idaho, surrounded by family members and listening to "her favourite music" from the 1952 film "The Quiet Man," said Johnny Nicoletti, her manager and co-author of O'Hara's memoir "'Tis Herself'."
The flame-haired actress starred in more than 50 films including 'The Quiet Man', 'How Green Was My Valley" and 'Miracle on 34th Street' – bringing a fiery temperament, sharp tongue and strong-willed manner to her roles.
She starred opposite some of the top leading men of the screen including Jimmy Stewart, Henry Fonda, Tyrone Power, Douglas Fairbanks Jr. and notably John Wayne, with whom she had intense on-screen chemistry.
Maureen O'Hara, known as the Queen of Technicolor, dies at 95 https://t.co/KXYTwvdZu0pic.twitter.com/um2TpmVOR6

— The New York Times (@nytimes) 24 Octobre 2015
Despite being one of the most recognisable leading women in American cinema for decades and delivering numerous memorable performances, she was never nominated for an Oscar.
In 2014, however, she was given an honorary Oscar for career achievement and showed she still had her fiery temperament at age 94 by protesting when her acceptance speech was cut short and she was rolled offstage in her wheelchair.
The screen legend, born near Dublin in 1920 as Maureen Fitzsimons, married three times.
Her third husband was aviator Charles Blair, whom she wed in 1968. When Blair was killed in a plane crash in 1978, she took his post as head of a Caribbean commuter airline.