Portugal: Passos Coelho named prime minister but left threatens to rebel
Comments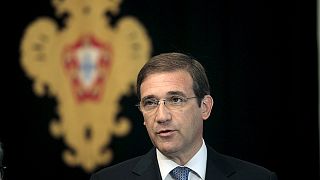 Portugal's centre-right leader Pedro Passos Coelho was asked to form a new government by the country's president on Thursday – despite failing to win an outright majority in the inconclusive election on October 4.
That leaves him vulnerable to leftist threats to topple his administration in parliament.
Nonetheless, President Anibal Cavaco Silva believes Passos Coelho is better for Portugal than the alternative.
"Even if the government formed by the winning coalition might not fully assure the political stability the country needs, I consider much more serious, the financial, economic and social consequences of an inconsistent alternative suggested by other political parties," Cavaco Silva said in a televised speech.
That was a thinly-veiled reference to the left – including the Socialists of Antonio Costa who fancies himself as prime minister, having come second in the ballot.
Costa is exploring an alliance with the Communists and the Left Bloc. If they officially join forces, they would have majority control in parliament .
A protracted political stand-off could blight Portugal's nascent economic recovery just a year after it emerged from an international financial bailout.