Portugal's President to nominate Prime Minister after post-election talks break down
Comments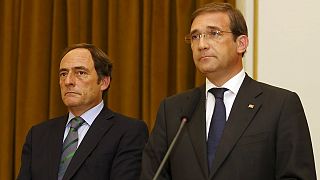 Portugal's caretaker prime minister says he expects the president to give the go-ahead to his centre-right coalition to form a new government.
P M Pedro Passos Coelho speaks with Pres. Anibal Cavaco Silva during their meeting at the Belem palace in Lisbon. pic.twitter.com/xzKaY8ThX9

— nica costa macedo (@nicafall) October 8, 2015
Analysts, however, are warning of a political crisis.
Pedro Passos Coelho's grouping won the most votes in the legislative election on October 4th, but fell short of a parliamentary majority.
A minority centre-right government would need support, or at least abstention, from the Socialists to pass laws in parliament. But talks between the groupings have broken down.
Costa ao FT: "O PS é o partido mais pró-Europa em Portugal" http://t.co/54IaILD1qdpic.twitter.com/BCIqLh1y2c

— Negócios (@JNegocios) October 14, 2015
There has been a period of intense but inconclusive political horse-trading since the election.
It now falls to President Anibal Cavaco Silva to nominate a Prime Minister.
The possibility of a change of administration or even a political vacuum is conjuring up uncertainty in Portugal as it recovers from its debt crisis.