Oviedo glitters for the 2015 Princess of Asturias awards ceremony
Comments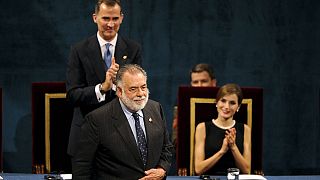 The Spanish-speaking world has celebrated one of its great gala evenings with the 2015 Princess of Asturias prizegiving ceremony in Oviedo, Spain.
King Felipe and Queen Leticia handed out the prizes, one of the most notable, the award for International Co-operation, going to Jimmy Wales and his Wikipedia team.
The prize for Social Sciences went to French economist and Professor of Poverty Alleviation and Development Economics at MIT, a field which she has pioneered, Esther Duflo.
The venerable Hospitaller Order of St. John, founded in 1593, won the Concord award, and the Cuban-born writer Leonardo Padura won the Literature prize.
The arts prize went to film director Francis Ford Coppola, who also gave one of the evening's keynote speeches.
"This is the real thrill of the human species, that each generation children can run faster, leap higher, play musical instruments with uncanny technical excellence and dream bigger, newer, cinematic expressions than we can't even guess at," he said to generous applause.
Only the winners of the Sports prize, the Gasol brothers, were not able to attend as they are currently involved in the NBA. It is the second time they have won, as the basketball stars were part of the Spanish team that won as a group in 2006. It was also the second win for the Technical and Scientific Research duo of Emmanuel Charpentier and Jennifer Doudna, for their revolutionary biotechnology work.
The Communication and Humanities award went to the now-retired Emilio Lledó Íñigo.