Sweden: assailant now dead after double-fatal school sword attack
Comments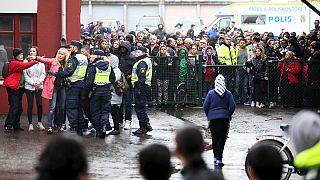 Police investigating a sword attack at a school in Sweden say the attacker is now dead.
A masked man wielding a sword killed a teacher and seriously wounded another along with two pupils at a school this morning.
One of those injured later died in hospital.
Police responded to calls warning of an intruder with a sword on the premises at 10am.
It happened at the Kronan school in Trollhättan, an industrial town just north of Gothenburg.
There are 400 pupils at the school, ranging in age from pre-school to high school.
Swedish Prime Minister Stefan Löfven is expected to visit the school.
Five crucial facts to know about the #Trollhättan school attack: https://t.co/NNaXROAzhw#Swedenpic.twitter.com/upW0URp18d

— The Local Sweden (@TheLocalSweden) October 22, 2015
Leit is a pupil at the school who witnessed the attack. "The man had a mask on, he told reporters. "At first we thought it was a joke because Halloween is coming up soon. One of my friends went to take a picture with him.Then we saw the man getting stabbed so we just ran.."
JUST NU: Misstänkte gärningsmannen från #Trollhättan fångad på bild före dådet https://t.co/lad4IspgWbpic.twitter.com/95wQdXHCQe

— Dagens Nyheter (@dagensnyheter) October 22, 2015
Police have identified the attacker who is said to be in his 20's. He was being treated in hospital for gunshot wounds. No indication has been given about a possible motive for the attack.