Hungarian camerawoman vilified for tripping a migrant, plans to sue
Comments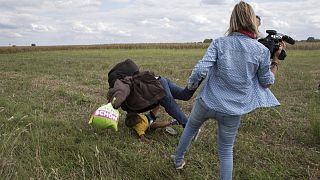 The Hungarian camerawoman who was sacked after being filmed tripping a refugee in Hungary says she plans to sue Facebook over its coverage of the incident.
Petra Laszlo who now faces a criminal trial, claims she was not to blame and that Facebook refused to take down from their site, threatening comments made towards her.
A video recorded on Sept. 9, 2015 appears to show Petra Laszlo kicking a child as she ran with other migrants from a police line during disturbances in Roszke, southern Hungary.