Syrian refugee tripped by shamed camera woman is named
Comments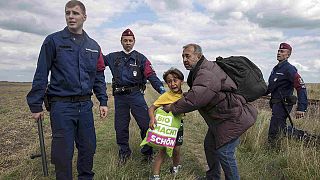 The Syrian man tripped up by shamed Hungarian camera operator Petra László has been identified as a 'dream team' football coach.
Osama al-Abd al-Mohsen, also known as Osama al-Ghadab from the Syrian city of Deir Ezzor,has worked with Syrian Premier League football team al-Fotuwa SC.
Mr Osama was filmed being tripped up by László as he tried to escape from a makeshift refugee camp in Hungary on Septermber 8. Osama was carrying his seven-year-old son when running from police.
Many refugees fear that registering for asylum protection in Hungary will prevent them from leaving for the wealthier EU member states, such as Germany.
A Syrian community page identified Osama al-Abd al-Mohsen and alleged that he had fled the group calling itself Islamic State (ISIL).
Commentators have described al-Mohsen as "an early revolutionary" who was captured and tortured by Syria's Assad regime.
This photo from al-Mohsen's Facebook page shows him standing as coach of a Deir Ezzor-based al-Fotuwa SC football team. Comments under the photo describe al-Fotuwa SC as a "dream team."
Euronews has not independently verified exactly when al-Mohsen left Deir Ezzor or what his exact migration path had been. Mohannad al-Mohsen, identified as another of the man's sons, was interviewed, in several news reports and said he had no information about the current whereabouts of his father and young brother.
Many social media users have refered to al-Mohsen as "Hajj Osama" a respectful title for elder men who have completed the pilgrimage. One such comment reads, "Hajj Osama, do not despair."
Syrians on Facebook have asked people to pray Osama who, many say, "fled from hatred to find hatred."
Man tripped by reporter was tortured under Assad and escaped from #ISIS – @panyiszabolcs

http://t.co/LQrjfhrxNo
pic.twitter.com/tbmiThGRnR

— Conflict News (@Conflicts) September 10, 2015
The #Hungary N1TV camara-woman who tripped this #refugee, running w his child, and others has reportedly been fired pic.twitter.com/b5kVdF0R4n

— Lotte Leicht (@LotteLeicht1) September 9, 2015