Golf needs to be affordable and accessible - Woods
Comments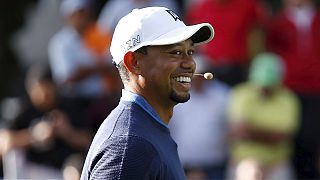 Former world number one Tiger Woods has been in Mexico this week to promote the sport and lead a clinic for golf enthusiasts in the capital.
Despite it being a football-crazy region the popularity of golf has steadily risen over the decades.
But the America 14-time major winner, who will soon undergo back surgery, believes more can be done at grass roots level to encourage younger participants.
Woods said: "It's obviously this country and many Latin American countries, football is the dominant sport and I think a lot of that is not only for tradition but accessibility. We need to make golf affordable and accessible and a lot of times it's not. Kids aren't being introduced into the game of golf at early ages as they are to football and any other sports and so consequently we don't have as many players coming out of these regions."
After the news conference Woods got down to business helping the local kids with their golf swing.
The visit of arguably golf's finest player in the region could go some way in inspiring the next generation of South American talent following Argentina's 2007 US Open champion Angel Cabrera and Mexico's former world number one Lorena Ochoa.