Slovenia gives army more power amid migrant crisis
Comments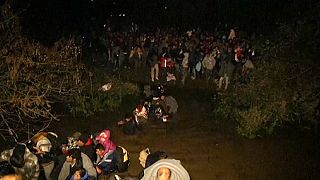 Slovenia's given its army new powers to help police guard its state borders as thousands of migrants continue to pour into the country from Croatia.
The new legislation will allow soldiers to control the border when there are no police present.
Last night thousands of people were left in a field between the two countries to make their way unaided by foot to a reception centre. A 15km walk through cold, wet and unfamiliar terrain.
"The river is very cold, up to my head here, the water is very big, for that we decided to come here and water was here. We need help, we need dress, we need food, now we are all wet," said one Iraqi man describing the crossing conditions.
It comes after Hungary sealed off its border on Friday night. Since then, more than 20,000 migrants have since arrived in Slovenia in order to pass through to Austria.
At least 6,000 spent the night in Slovenia which provided them with shelter in refugee centres.