Italy flies 70 refugees to Scandinavia
Comments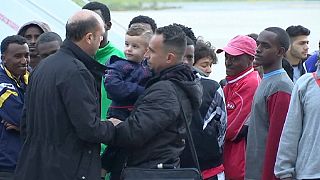 70 refugees have flown from Italy to Finland and Sweden as part of the first phase of the European Union's relocation plan.
The majority of the group are Eritreans but there are also some Syrian nationas on board.
Italy relocates 70 refugees as costs to house migrants double https://t.co/SeUWMkJbOy

— Reuters World (@ReutersWorld) October 21, 2015
The Italian government is hoping to eventually relocate 100 migrants to Scandinavia every day.
Italy's Interior Minister angealfa</a> spoke <a href="https://twitter.com/LSEEI">LSEEI today about Europe's response to the refugee crisis. #LSEItalypic.twitter.com/dmUTEIJHZa

—

LSE

Events (@LSEpublicevents) October 13, 2015
Italian Interior Minister Angelino Alfano says the plane is an EU success story. "The journey of these 70 migrants is a victory for Europe."
The EU plans to relocate 160,000 refugees from Greece and Italy.
The two countries have dealt with huge numbers of arrivals from across the Mediterranean.
L'allarme Unhcr, Carlotta Sami: "Solo visti umanitari frenano la crisi" http://t.co/jgX1eJ0BNSpic.twitter.com/AHAWiehxj7

— 1001portails Italia (@1001ptsIT) September 15, 2015
"160,000 is a drop in the ocean. The need is much greater. We are already above 500,000 arrivals in Greece and 140,000 in Italy. It is true to say this is a drop, just the first step. We are sure that by the end of this year and the beginning of 2016, the number needed will be much greater." said the UNHCR's Carlotta Sami.
More than half a million people have poured into Europe this year alone.
They are fleeing war and poverty in the Middle East, Asia and Africa.
Their arrival has sparked bitter disputes between member states about how to react and share out responsibility.