China invests 8 billion euros in new UK nuclear plant
Comments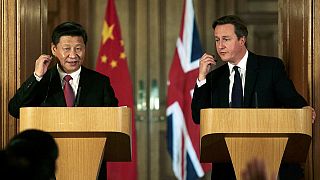 China has agreed to invest the equivalent of eight billion euros in a new UK nuclear plant, in return for later help bringing Chinese nuclear technology to the West.
The deal was part of Chinese President Xi Jinping's four-day state visit to the United Kingdom.
Xi's visit comes amid job cuts in Britain's steel industry, blamed in part on cheap Chinese imports.
At a joint news conference, British Prime Minister David Cameron was asked by a reporter if there is any price that's worth paying to further the UK's business interests with China.
"I would completely reject the premise of your question that either you can have an exchange with China about the issue of steel, or indeed about human rights, or you can have a strong relationship with China which is good for business, investment and growth," responded Cameron. "My argument, my contention, after five years of doing this job is that you can have both. Indeed you must have both."
Battery-powered black taxis
The queen's grandson Prince William received President Xi and his wife at Lancaster House earlier on Wednesday.
They inspected a new battery-powered black taxi which is set to be produced by the Chinese owned London Taxi Company.
Britain is being pitched Britain as the pre-eminent Western gateway for investment from China.
The warmth of the reception for Xi has raised some eyebrows and many concerns that London is ignoring China's human rights record.
Protests on the streets have so far been small. They have been dominated by pro-Tibetan and pro-democracy groups, as well as supporters of the spiritual sect Falun Gong, which is banned by China.