Canada's new PM confirms pledge to end fight against Islamic State militants
Comments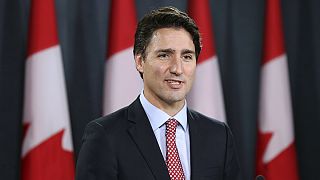 Canada's Prime Minister-designate Justin Trudeau has confirmed his pledge to end the country's combat role against Islamic State militants in Iraq and Syria.
It comes hours the 43-year-old's Liberal party swept to victory in a general election that ended a decade of Conservative rule.
Trudeau said he'd spoken with US President Barack Obama to make clear his plans to withdraw Canada's role in the bombing missions but maintain humanitarian aid and training.
"We talked about Canada's continued engagement as a strong member of the coalition against ISIL and I committed that we would continue to engage in a responsible way that understands how important Canada has a role to play in the fight against ISIL. But he understands the commitments I've made around ending the combat mission," said Trudeau.
Canadian CF-18 fighter jets have been deployed to the region until March 2016 but Trudeau did not give a timeframe for the withdraw.
Trudeau, who campaigned on a promise of change, has also pledged to tackle climate change and legalise marijuana.