Poignant moments as Korean families wrenched by war meet again
Comments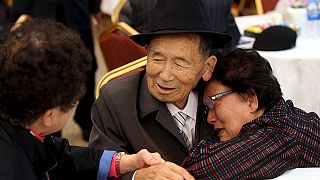 Hundreds of elderly South Koreans have travelled to Mount Kumkang in North Korea to meet with relatives for a three day reunion.
Many of those on the trip have had no contact since war divided the South from the North 60-years ago.
At 88, Le Ok-yeon met her husband for the first time in 65 years and still lives in the house he built for them:''We have a son, close to 70, who will meet his father for the very first time.''
For more than 50 years Lee Jeong-Suk has held memorial services for her father believing him to be dead:"I would like to thank my father's North Korean wife and children for taking care of him. Not even the split in the country could break the family."
The poignant reunions. are a stark remainder of the tragedy of the ongoing cold conflict.
Korea exists in a state of armed truce as the fighting ended with an armistice not fully fledged peace.