Oscar Pistorius is released from jail under house arrest
Comments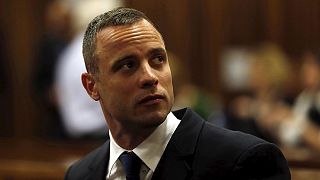 The South African Olympic and Paralympic sprinter Oscar Pistorius has been released from prison and put under house arrest to serve out his five year sentence for killing his girlfriend, Reeva Steenkamp.
He still however, has to face an appeal by prosecutors who argue he should have been convicted of murder which would carry a 15 year prison term.
He was found guilty in October last year of culpable homicide – which is the same as manslaughter – after saying he shot Steenkamp through a locked bathroom door because he mistook her for an intruder.
Her family have previously said that the time served by Pistorius was "not enough for taking a life".
Twenty-eight-year-old Pistorius will be confined to his uncle's home in a wealthy suburb of the capital Pretoria.
His parole conditions include a requirement that he must undergo psychotherapy and he is not allowed to possess a gun. It is not thought he will be tagged.
For the last 11 months, Pistorius has spent up to 23 hours a day in virtual isolation on the prison's hospital wing.
South African sentencing guidelines say that a non-dangerous prisoner should only spend one-sixth of a custodial sentence behind bars.
Pistorius had his lower legs amputated when he was a baby but trained as a runner using his distinctive metal-like prosthetics which led him to being called "Blade Runner". He went on to excel in both mainstream and paraplegic athletics.
The Pistorius case and his sentence has caused much controversy around the world.
ICYMI: http://t.co/p8FXUgyXYQ How women's lives still don't matter #RememberReeva

— HazelKatherineLarkin (@HazelKLarkin) October 17, 2015