Israel: fear and anger show no signs of abating
Comments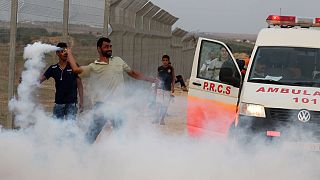 The fear and anger on the streets of Israel show no sign of abating.
An Israeli soldier was stabbed and slightly wounded in clashes with Palestinian youths near Hebron overnight.
Israeli medics say his Palestinian attacker was shot dead.
An inquiry is underway after an Israeli man in his 50s was killed in a rpad accident, also in Hebron.
It is suggested Palestinian youths were throwing stones nearby.
The spate of daily attacks has caused panic across Israel and raised fears that the region is on the cusp of a third intifada, or mass uprising.
Israel arrests top Hamas official
Israel, meanwhile, has arrested a top Hamas official near Ramallah in the West Bank.
Officials have accused Hassan Yousef of inciting some of the recent violence.
Hamas has condemned the arrest, the most high-profile since this latest wave of unrest began a month ago.