Video: plane crashes into Bogota bakery killing 5 people
Comments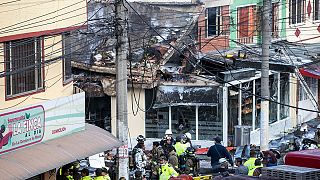 Incredible video footage shows the aftermath of plane crashing into a bakery in the Colombian capital Bogota. Five people died when the small aircraft crashed minutes after taking off from the city's El Dorado airport on Sunday. Six others were sent to hospital with injuries.
Officials say one of the dead had been inside the bakery. Seven other inside the business suffered burns, including a twelve-year-old girl. Three homes were damaged in the incident.
It was the third crash of a small plane in Bogota in three months.
Three people were killed in August in a plane crash, and three more died in October when another plane smashed onto a motorway.
Police say the victims included the pilot, the plane's owner, one man, one woman and one child.
Small plane crashes into bakery in Bogota, Colombia, killing 4 http://t.co/3XQCNyE4A7pic.twitter.com/u3Jco6GpKT

— Agence France-Presse (@AFP) October 19, 2015