The Chinese President arrives in the UK for a four-day state visit
Comments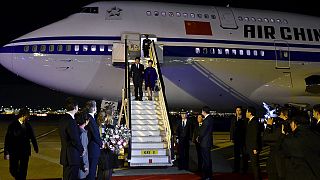 The Chinese President Xi Jinping and his wife Peng Liyuan have arrived in the UK for a much-anticipated four-day state visit.
Prime Minister David Cameron says nothing is "off the table" during talks and the UK wants to be China's "best partner in the West".
For Britain, President Xi's four-day visit is the culmination of a year-long charm offensive: http://t.co/BeZLQSy2YYpic.twitter.com/nnJY7l92yh

— Reuters UK (@ReutersUK) 19 Octobre 2015
However, questions are already being raised both at home and abroad about Beijing's record on human rights.
World #Uighur Congress head slams #Chinese oppression http://t.co/WSoyTnRJTgpic.twitter.com/ZTJq3iJe7z

— Hurriyet Daily News (@HDNER) July 8, 2015
"It is very unfortunate that they are welcoming President Xi with a red carpet. They ought to know that the blood of the Uighur and Tibetan people, along with other Chinese dissidents is in that red carpet." said Rebiya Kadeer of the World Uighur Congress.
Chinese subsidies for cheap steel are also likely to be on the agenda, as unions warn this could threaten the UK industry.
On #NewsAtTen, ragehomaar</a> meets China&#39;s ambassador to the UK, who&#39;s unapologetic for UK steel industry job losses <a href="https://t.co/YgTEWu3rbf">https://t.co/YgTEWu3rbf</a></p>&mdash; ITV News (itvnews) October 19, 2015
But it is the row over nuclear power that is causing most concern.
The UK government has recently announced that Chinese companies will be allowed to take a stake in British power plants.
Two questions from meaglemp</a> to the Defence Secretary on China, cyber security & nuclear operations in the UK <a href="http://t.co/m0f0BWqlvG">pic.twitter.com/m0f0BWqlvG</a></p>&mdash; Labour Defence (LabourDefence) October 19, 2015
Some have voiced concern over potential implications for national security.