Switzerland veers further to the right as SVP makes election gains
Comments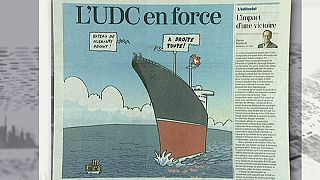 Europe's far-right seems to be a family affair. After the rise of Marine Le Pen in France, now billionaire Christoph Blocher's billionaire daughter Magdalena Martullo has been elected to the Swiss parliament, and her father's SVP party has won its highest-ever share of the vote.
With nearly 30% it is the biggest party, and has got there with an anti-immigrant, anti-EU position.
Magdalena Martullo's success came despite her not living in her constituency, and the closure of her father's factory there.
"It's a very nice result which the whole party has ground out, with a big effort all over the canton of Graubunden. I'm optimistic that we can take this dynamic to the parliament in Bern," she said.
In a light-hearted campaign clip her father was seen belly-flopping into a pool, and at 75, despite no longer having an official party role he stumped around the country to get the vote out.
The Swiss left protested in the capital, Bern, after the results were announced, but in Switzerland's coalition politics the SVP will only have limited influence.