Philippine clean up after Typhoon Koppu
Comments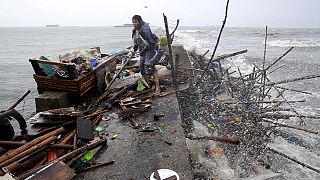 As Typhoon Koppu weakens, the clean-up begins. Residents in the northern Philippines are getting back to normal after the storm, downgraded to a category one typhoon from category four.
At least nine people died as trees and power lines were toppled and rivers burst their banks spreading flood waters.
The typhoon blew ashore on Sunday (October 18) with fierce wind and heavy rain hitting Aurora knocking out power in nine provinces.
After its landfall the storm weakened but not before many roads and bridges were damaged by flooding and mudslides.
The slow moving typhoon was expected to weaken to a tropical storm by late Monday and exit the main northern island of Luzon on Wednesday.
For many Filipinos the latest devastation brought back memories of Typhoon Haiyan which struck the central Philippines two years ago, killing more than 6,300 people.