Democracy in the doldrums as Egypt votes
Comments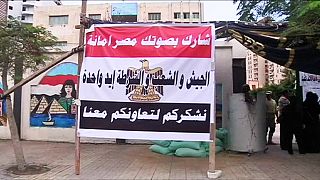 Voter apathy and low turnout have marked day two of Egypt's parliamentary election.

Pic of a lone #Egyptian soldier guarding empty election station speaks volumes to dismal voter turn out #Egyptpic.twitter.com/VFBeaNxjfM

— Asma (@LibyanBentBladi) October 19, 2015
The lack of a credible opposition to the rule of President Abdel Fattah al-Sisi has prompted many Egyptians to stay away in sharp contrast to Egypt's first democratic election in 2011/12.
"The turnout for women voters is about average. I don't know whether the youth are intending to vote or not. What is their point of view and what are they for or against? What else do they want? Don't they want the country to advance? What are they waiting for? God help us!"
Many believe that with most of al-Sisi's opponents behind bars the new chamber will simply rubber stamp presidential decrees.
#Egypt's election comes at a time of increasing uncertainty about the country's future. http://t.co/cr80aaAhIOpic.twitter.com/YVZalHEgwY

— Global Observatory (@IPI_GO) October 16, 2015
The second stage of the election is scheduled for November with final results announced in December.