A race against time to save the 'bongs' of Big Ben
Comments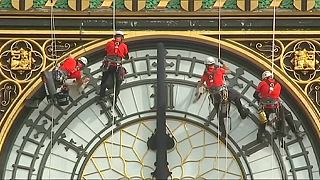 It's a race against time to save the "bongs" of Big Ben.
A report on the state of one of the United Kingdom's most prominent symbols says if urgent repairs are not carried out the clocks' mechanism could fail completely.

Why the bongs of Big Ben are set to fall silent for 3 years: http://t.co/BrOawpL1Q4pic.twitter.com/FXvX4xF4ZW

— The Times of London (@thetimes) October 19, 2015
Refurbishment costs could run as high as €54m with the taxpayer picking up the tab.
Andrew Blick is from King's College, London:
"Well clearly in a climate of austerity when parliament is voting through cuts in other areas it's going to be controversial if they seem to authorising expenditure on that scale for a repair to what is essentially their own building. However, Big Ben and the Elizabeth Tower, which it's on top of, is an iconic image of the UK."

"The Houses of Parliament" and "Big Ben" are among #London's most iconic landmarks (credit: Eric Hossinger). pic.twitter.com/zJQ3PeBXT9

— Magni Pontis (@MagniPontis) October 18, 2015
The restoration of the Palace of Westminster is already stretching the public purse to the tune of €10bn.
This comes at a time the government is introducing deep cuts across a raft of public services.
The repair work could see the clock fall silent for four months.