Egyptian novelist Gamal Al Ghitani dies
Comments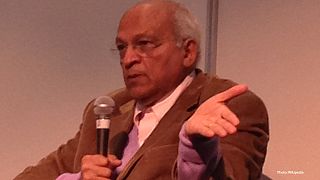 Renowned Egyptian novelist and journalist Gamal Al Ghitani died on Sunday at a hospital in Cairo where he had been in a coma for more than three months, his wife said.
Al Ghitani, 70, was admitted to Cairo's El Galaa Military Hospital after he faced difficulty in breathing.
"He died this morning," Al Ghitani's wife, Majida Al Jendi, told reporters.
State media reported that Al Ghitani's funeral was to be held at Cairo's Sayyida Nafisa mosque later in the day.
Al Ghitani, a firm supporter of the army since the fall of veteran leader Hosni Mubarak in 2011, was one of Egypt's most acclaimed writers and shared a close friendship with the Arab world's only Nobel laureate, Najeeb Mahfouz.
Al Ghitani's books, including widely praised novel Zayni Barakat, have been translated into several languages including English, German and French.
An opponent of Islamists, Al Ghitani, who worked as a carpet designer before taking to writing, reported extensively from the frontline during the 1973 Arab-Israeli conflict.
Acclaimed locally and internationally, Al Ghitani won many awards, the latest being the Nile Award for Literature in 2015, the highest literary honour granted by the Egyptian government.
In 1987 he was made Chevalier de l'Ordre des Arts et des Lettres, a prestigious position awarded by the French government recognising significant achievement in the arts.
In 1993, Al Ghitani founded and headed Akhbar Al Adab (Literature News), one of Egypt's literary newspapers. He remained its chief editor until 2011.
AFP