Early voting starts in Myanmar poll after activists are arrested for Facebook posts
Comments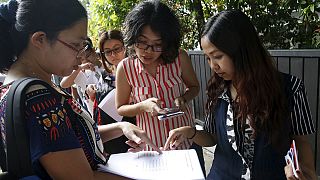 Early voting has begun in Myanmar's historic election.
Expats in Thailand lined up to cast their ballots on Saturday at their county's embassy in Bangkok.
Only a small fraction of Myanmar's citizens living in Thailand are registered for a vote that is expected to see Nobel laureate Aung San Suu Kyi's opposition National League for Democracy do well.
Ahead of #Myanmar elections, planned for 8 Nov, Aung San Suu Kyi vows to lead country if her party wins: http://t.co/lJhCXkX6Cf

— Guardian Weekly (@guardianweekly) 7 Octobre 2015
The ballot will go ahead as planned on November 8 despite disruption caused by widespread flooding.
It is seen as a test of the transition from military rule in the former pariah state, also known as Burma, where the junta ceded power to a semi-civilian government four years ago.
The military though remains powerful and President Thein Sein is a former general.
What is more, rights groups condemned last week's arrests of two activists in Myanmar who had mocked the army, warning that an escalating crackdown against free speech ahead of the election could derail hopes for democracy.
Peace activist Patrick Kum Jaa Lee was arrested on Wednesday for a Facebook post showing someone stepping on a photo of Commander-in-Chief, Senior General Min Aung Hlaing, UK-based rights group Amnesty International said.
On Monday, Chaw Sandi Tun was arrested for a Facebook post pointing out that Aung San Suu Kyi was wearing clothes of a colour similar to those of the army, and in particular General Min Aung Hlaing, according to Amnesty.
Amnesty and Human Rights Watch, a New York-based rights advocacy group, said these were two of the first cases in Myanmar where people have been detained for social media posts.
#Myanmar MUST release peace activist & young woman, both arrested for posts on #Facebook. http://t.co/uChGeg5JlApic.twitter.com/6YZ40l7HdL

— AmnestyInternational (@amnesty) 15 Octobre 2015
On Thursday, the US State Department urged Myanmar to release the activists immediately, saying that the use of laws "to restrict freedom of expression directly contradicts democratic principles and the government's own stated commitment to promote political reform and respect human rights".
Nay Phone Latt, an influential free speech advocate who is running as a candidate for Suu Kyi's National League for Democracy, said the arrests were likely to chill free expression on the Internet.
"The current government said we are in a democratic society, but it's not true," he said. "From these cases, we can clearly see that we cannot touch the military."