What's happening this week 19/10/15
Comments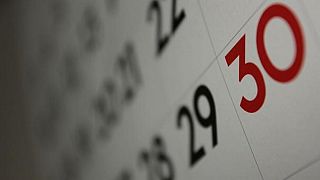 MONDAY
USA

– EU

Miami • The 11th round of EU-US trade talks are due to take place in Florida. The talks on the Transatlantic Trade and Investment Partnership (TTIP) aim to create the world's biggest free-trade agreement. Talks until the 23rd.
GERMANY

–

CLIMATE

CHANGE

Bonn • In the run-up to the Paris COP21, negotiators from all nations will meet for the last time in Bonn, to prepare for a new agreement to be adopted in December.
TUESDAY
UK –
CHINA
London • Chinese President Xi Jinping begins a four-day state visit to the UK. Welcome by Queen Elizabeth. During his visit, the Chinese president is expected to address the parliament and meet Prime Minister David Cameron. Some protests are expected.
SWITZERLAND

–

FIFA

Zurich • Soccer's governing body FIFA holds an extraordinary Executive Committee meeting. The meeting comes after FIFA President Sepp Blatter and UEFA President Michel Platini were suspended for 90 days by FIFA's Ethics Committee.
SOUTH

AFRICA

–

PISTORIUS

Johannesburg • Oscar Pistorius is to be released from prison and into house arrest, a year after he was sentenced to five years for killing his girlfriend Reeva Steenkamp.
ALASKA

–

ARCTIC

COUNCIL

Anchorage • The Arctic Council convenes. The meeting brings together the Arctic States, Permanent Participants (six organizations representing Arctic Indigenous peoples), Working Groups and Observers. The programme for this meeting includes discussion of several focus areas of the Arctic Council, including climate change, environment and biodiversity, Arctic communities, and oceans.(to 22)
WEDNESDAY
SPAIN

–

EPP

Madrid • Europe People's Party congress. German Chancellor Angela Merkel and European Commission President Jean-Claude Juncker to attend.
THURSDAY
GREECE

–

FRANCE

Athens • French President Francois Hollande is scheduled to make a two-day visit to Greece. He is expected to meet with Greek Prime Minister Tsipras for talks.
USA

–

CLINTON

Washington DC • Democratic presidential candidate Hillary Clinton is due to testify to the Selection Committee for the first time on the attack on the US diplomatic compound in Benghazi in 2012, during which she was US Secretary of State.
SATURDAY
UN – 70
New York • 70th anniversary of the official formation of the United Nations
SUNDAY
POLAND

–

ELECTIONS

Various • Poland holds a parliamentary election. Opposition PiS leader Jaroslaw Kaczynski faces incumbent Polish Prime Minister Ewa Kopacz's Civic Platform party.
ARGENTINE

–

ELECTIONS

Various • Argentines go to the polls for first round vote in presidential and legislative elections.